This is my first post in months.
Apologies. In the words of Winnie the Pooh I have been a Bisy-Backson aka "Busy Back Soon".
I have been busy polishing the final draft of the sequel to my debut novel, Catch the Moon, Mary and finishing a project I started years ago — a two-hander super dark musical about a childless couple caged in a New York apartment, worn out by their dead-end jobs, going nowhere. He reads Eliot and reminisces about the day he met his wife. She flips through fashion magazines, her head roaring with unresolved past pain. He has become a romantic, replaying an embedded vision of his wife dancing in the waves wearing a red dress. She was the embodiment of freedom, a sea creature, a wraith, not quite of this world. In his mind, she permanently dances on the shore at the intersection of two worlds, spinning, dreaming, longing for a way to escape her past.
I have drawn on the Celtic myths of Selkies, seals who can turn into beautiful women and seduce sailors and the fantastic tails of mermaids, for inspiration. One has to wonder how many of the woman-to-fish fantasies were born in the minds of lonely sailors or lovelorn fishermen. No matter, they make compelling fodder for writers.
The other thing I have been doing in lockdown is landscaping the vacant block next door and it has become a stairway to heaven with twisting paths leading up the steep hillside, sentinelled by hardy succulents that can endure tough dry Australian summers, brittle, rainless winters and perfect springs and autumns.
With Climate Change a foreboding presence it is imperative that we all green up our immediate environment. Planting a garden is my small contribution. That and living simply and being diligent about refusing plastic wherever possible.
In addition to the new book and the new musical there are screenplays afoot for my two self-published books, Catch the Moon, Mary and Fields of Grace.
All in all lockdown is serving me well. At least I am keeping myself occupied.
The great thing about creating new works is the opportunity to partner with incredible others.
With the books I am blessed to have found Sarah Sansom, a brilliant marketer/blogger and reviewer based in the UK. She has been a tower of support since we met virtually last year. Full of energy, enthusiasm and ideas, Sarah is like a guardian angel. Please check out her site: https://thebookswhiskers.wordpress.com/author/sarahsansom76/
With the musical I am blessed thrice in having the opportunity to develop the work with Frank Loman, Lucy Aley-Parker and composer, Ricardo Nunes Fernandes in London.
Finishing the book of the musical to first draft required a truckload of discipline because I don't usually write DARK! I love light and redemption but there was simply no way this particular couple could have a happy ending. The musical is decidedly dark and…damp! Throughout the play, rain splatters, lightning cracks, thunder rumbles and the sea moans, sirening the couple back to its dangerous embrace. I was really worried that such a disturbing book would not fly but when my London friends, Lucy, Frank and Ricardo read it they gave it an enthusiastic thumbs up and so, I bogged down and sketched out the lyrics, arguably the best lyrics I have ever written! Maybe because I have nothing else to do!!!
Lucy Aley-Parker has been a friend since 2015 when she directed the staged reading of the first chapter of my novel, Catch the Moon, Mary. Lucy is a gifted writer, director, performer and producer. I trust her judgement implicitly.
https://www.imdb.com/name/nm1793176
Lucy Aley-Parker, Actress: Swim. Originally training at Webber Douglas, she spent over ten years in the profession, gaining experience in Rep, TV, film, radio and panto. After a large gap in her acting career, working in the corporate world of publishing and exhibition management, she returned fully to professional acting in 2012.
Years ago a clairvoyant told me I would need to get my work to England because it would never gain traction in Australia. At the time I wondered how it would be possible, I was a single mother with a small child and no money for travel, let alone, the time to do so. But fate has an uncanny way of weaving her web and manipulating algorithms. In 2015 a tiny publishing house in Scotland published my debut novel (turned down by every publisher and agent in Australia) and I begged, borrowed and partially saved my fare and accommodation for a whirlwind trip to London to launch my book. On that trip I met Lucy Aley-Parker and Amanda Redman, two of the most supportive and talented people I have ever known. They opened my mind to possibilities I had never considered in Australia.
England has been amazing for me, doors have opened and people have been far more receptive to my work. Maybe it's because I love whimsy and anything remotely fey. There is always a ghost at the table. I love exploring the intersection between our reality and Otherworld. Both my books have garnered praise in the UK.
And now a new musical is brewing and it has given me and my friends a marvellous challenge and as we bring it to life we will explore all sorts of options for music, staging, performance and pushing the boundaries.
As Lucy said in our most recent Zoom reading of the musical: "These are two people who simply never should have been together." Amen.
https://allauthor.com/interview/wendywaters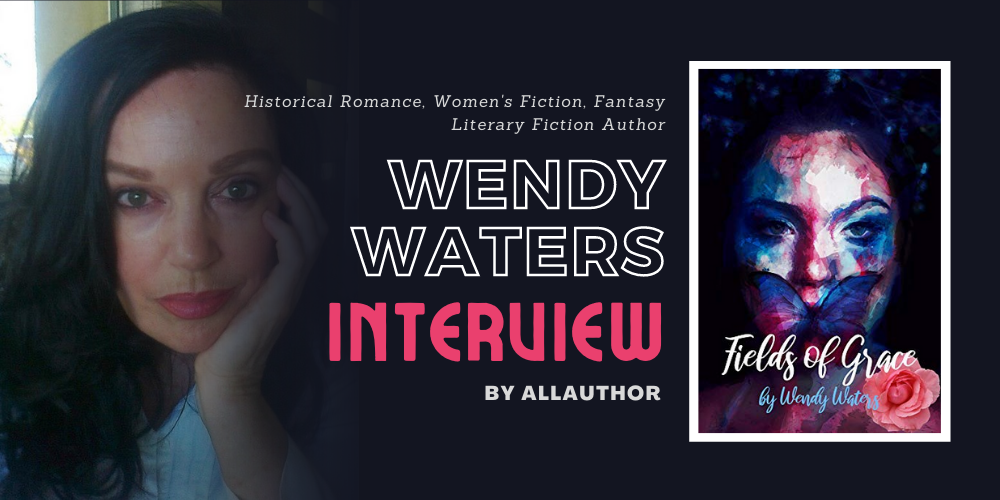 Sarah's review of Catch the Moon, Mary
https://www.goodreads.com/review/show/3323519941
An impossible passion.